The Commercial Appeal, March 12, 2016
I now recall giving an interview that I had completely forgotten about. As I had written on the MS state flag, a reporter called me from The Commercial Appeal, Memphis, TN's major newspaper. To those not from the region, Memphis is the closest big city for many folks living in northern Mississippi. In fact, lots of people live in DeSoto, MS, and commute across the state border to work in Memphis. So, lots of Memphis readers are Mississippians.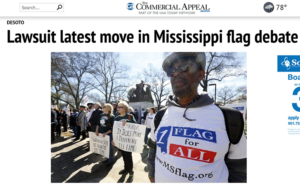 In the effort to change the MS state flag, one approach that arose came in the form of a lawsuit. Here's the piece that draws on the interview I gave.
Still no change to the MS state flag. It bears an emblem of the Confederate Battle Flag in its canton, even though the state of Mississippi joined the Confederacy explicitly for the purpose of defending the institution of slavery. Go on, read it. Please.
Here's the article in The Commercial Appeal about the lawsuit.